Our Vision
Horizon Access Care Vision is an innovative disability services organization with a strategic focus to grow by raising the bar in terms of professionalism, agility, and responsiveness. Our Vision is also to provide a holistic growing environment and as we work together to build a community that supports independent living.
Our Mission
Horizon Access Care Mission is to support and enhance the wellbeing of the people with disabilities in victoria by providing excellent support and care to people from diverse cultural backgrounds Horizon Access Care operations and activities are built upon the Values of: Respect | Empowerment | Excellence |Teamwork and Collaboration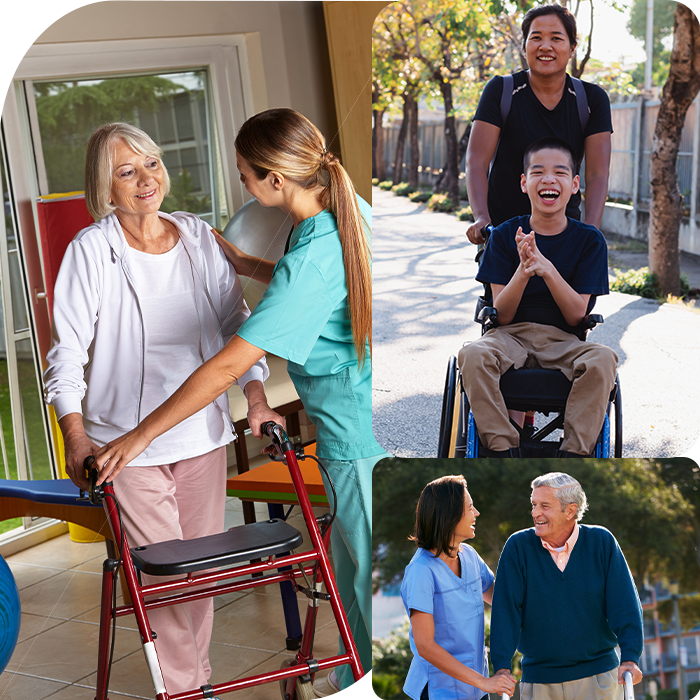 Holistic Disability Support Services for Independent Living
At Horizon Access Care, we have a proactive approach toward developing a holistic disability support service plan that focuses on helping you achieve your goals. Our team is committed to helping our recipients lead independent lives in a comfortable and safe environment.
At Horizon Access Care, we strive to provide support and care suited to the individual needs of every recipient. We focus on understanding your developmental goals and changing requirements.
It enables us to design personalised support plans to help you achieve them.
We aim to work with you to create a holistic growing environment to support independent living. And hence, we provide personalised goal-focused disability services for NDIS participants in Melbourne.
Connect with us to learn more about how our services can help you or your loved ones.
We ensure that you can lead the life you want independently. We understand that the individual requirements are different for all our clients. Our experts have the training and experience to develop their support services based on the needs of each individual.
Listed below are the services we provide at Horizon Access Care.
Horizon Access Care is one of the leading disability service providers in and around Melbourne. And we have built our reputation by delivering our clients highly personalised plans based on their needs and requirements.
We believe that you should be able to choose the lifestyle you want to lead. And as your trusted disability service provider in Melbourne, we help you make it possible. Here is how we help you lead a more independent lifestyle the way you want.
Trusted Disability Services in Melbourne
Horizon Acess Care is a dedicated disability support agency in Melbourne. We provide our clients with the care and support they require to lead a holistic life and help them achieve their personal and developmental goals.
We are an NDIS-registered disability support agency in Melbourne. And hence the prices for our services conform with the NDIS guidelines. Our pricing structure includes all components and elements of the services provided.
We always recommend you check the NDIS price guide, as the guidelines get updated after regular intervals. You must continue accessing them from time to time to stay updated about the latest changes.

Treating all people with dignity, sensitivity, and courtesy.

We believe in equal participation in the community for all.

Building fairness through trust, and open communication.

Passionate about our work- driven by our vision and mission.

Provide the highest level of support and care to participants.
Respecting their choice in choosing the support service providers.

Equanimity regardless of age, culture, sexual or gender identity.

Supporting NDIS participants towards their journey of recovery.
Building a community to nurture social inclusion and diversity.
Creating an environment of change, positivity, and growth.
Personalised Disability Support Services in Melbourne
At Horizon Access Care, we believe that an independent life is a basic human right that everyone should have. And we aim to provide our clients with comprehensive disability support services in Melbourne so they can freely pursue their goals and aspirations.
As one of the most trusted disability service providers in the area, we work with NDIS participants to understand their needs and provide them with the support they need to lead an autonomous life.
Our team understands that every participant is unique and has their individual needs. Hence, we take a participant-first approach in all our disability services in Melbourne, enabling us to understand their specific requirements and deliver services that best suit them.
Are you seeking a trustworthy disability support service for yourself or your loved one? If yes, look no further than Horizon Access Care.
We are a trusted and reputed NDIS-registered disability support agency in Melbourne, with extensive experience helping NDIS participants to lead the life they want to, with minimal discomfort. Connect with us via call or email to learn how we can help you with our disability support services in Victoria.
The Australian Government launched the National Disability Insurance Scheme to provide financial support to Australians living with permanent and significant disabilities. This scheme aims to help such individuals access all disability support services they might require to lead fulfilling and autonomous lives.
For an individual to be eligible to opt for monetary support under the NDIS, they must meet the following conditions:
Applicants must be Australian citizens, permanent residents or a Protected Special Category Visa holder.
At the time of application, they must be between 7 and 65.
They must have a permanent or significant physical, sensory, mental, intellectual or psycho-social disability that hinders them from carrying out their daily activities.
Applicants must provide sufficient medical proof of how the disability support services under the NDIS can help them alleviate or reduce the discomfort they face in carrying out daily activities.
Are you or a loved one getting started on your NDIS journey? If yes, then connect with Horizon Access Care—one of the most trusted disability management service providers in Melbourne.
Here, we are committed to empowering our participants through comprehensive disability support services in Melbourne designed to suit their individual needs.
Why Opt for Our Disability Management Services in Melbourne?
As one of the most trusted disability agencies in Melbourne, we understand that every NDIS participant looks for services that help reduce or alleviate the discomfort and difficulties they face while carrying out their regular chores. So, our team is committed to working with our participants so that they can live a truly independent life in the company of their family, friends and loved ones.
When you select us as your disability agency in Melbourne, here is what we guarantee:
Highly personalised support plans to meet your specific needs
Trained and qualified professionals providing the support services you need
24/7 assistance available
Compliance with the NDIS Charter
NDIS-approved services
Transparent billing procedures
Constant assessment of your progress
Connect with us now to ensure that your NDIS journey is smooth sailing.
Frequently Asked Questions